When did you Last Update your Pet's Microchip Registration?
It is crucial that you update your contact information when you move or get a new phone number. A microchip can help find your lost pet only when this information is accurate.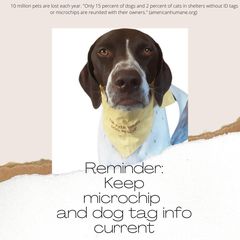 After you adopt a new pet from the VRHS, please register your dog (or cat if chipped) immediately by calling Smart Tag at 1-866-603-6863 or go online at https://www.idtag.com.
If you don't know the name of your pet's microchip company, the microchip number can be input into the microchip registry lookup at the AAHA's Universal Website: https://aaha.org. The name, phone number and website of your pet's microchip company will be provided, along with the last time the microchip was updated. Alternatively, your local veterinarian and the VRHS can scan your pet for the microchip number.
Any found pet without a tag can be scanned for a microchip. All local veterinarians and the Valley River Humane Society will scan a found pet to help locate its owner. Please help VRHS keep you and your pet together!